A strong gush of cold morning breeze swept the curtains away. Through the narrow breezy slit, I could see the dawn caving into the beauty of the rising sun. The reddish orange rays had spread across the endless mountains, beaming with delight – banishing the grey of the night. With a mug of coffee in my hand, I walked into the balcony of my hotel room to witness the birth of the magnificent sun in the lap of the Himalayas. The location was Ranikhet, Uttarakhand. And oh boy, what a view it was! Exactly what I had dreamt of…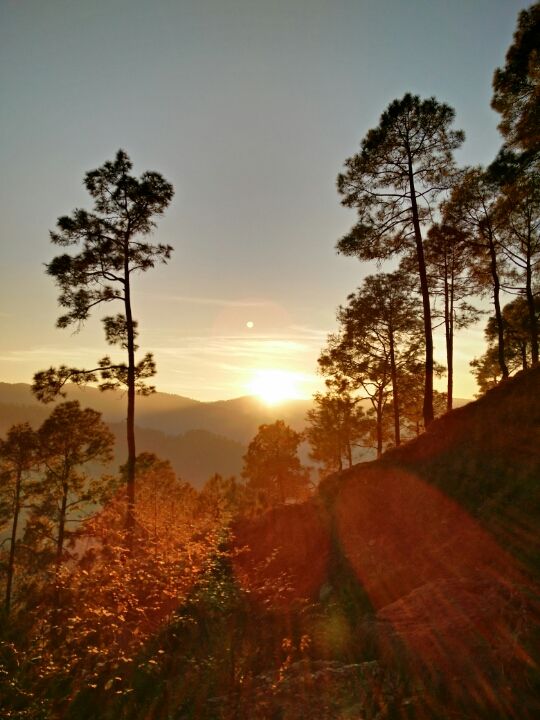 Or perhaps, am still dreaming… ?!
Cutting back to reality. I am in Chandigarh right now, and have been here for the last 12 months. My dream to watch the sunrise in Ranikhet is still a dream. Affording 5k per night for a hotel / airbnb room is out of my budget. Almost all my savings dried up trying to reach product market fit for my last startup.
But I am a big travel buff, a fan of nomadic lifestyle. The two topics around which most of my discussions revolve are Spirituality and Travel – both of them being journeys, one on the inside and the other on the outside. So in the days leading to the failure of my last startup, I had been thinking of ways on how to travel with almost no money – brainstorming ideas with my close friends.
One such discussion with my girlfriend, led to the inception of "Stay On Skill". The idea was – "What if a traveler can exchange his/her skill for a free home-stay? The host gets to learn a new skill for free, and the traveler gets free stay". "Skill" can thereby become the new currency for travelling.
The idea made so much sense to me. It was like a win-win deal for both the travelers and the hosts.
a.) The traveler gets to stay for free, experience local culture, and discover the local tourist spots (which many otherwise don't even get to know about).
b.) The host on the other hand gets to learn a skill of his / her choice for free, that too from an expert on one-on-one basis.
To test if this idea has legs, I created a basic landing page. In the registration process, I made the social sharing inherent – a well tested strategy used by many startups. And to my surprise, within 2 weeks of sharing the landing page on my Facebook network, it garnered over 2000 signups – with users filling in more than 8 data points (including cities they would like to visit, skills they have and link to their LinkedIn profiles). Around 90% of the registrants said they would like to travel as well as host other skilled travelers, validating the key proposition of Stay On Skill – people are willing to host a traveler, given that they get something tangible in return, as in this case – an opportunity to learning a skill of their choice.
Having validated the idea, the next stage was execution. As a lesson learnt from the failure of my last startup, I didn't want to code thousands of lines at the very beginning of the product. My focus was to somehow enable people to travel using their skills. To come up with a solution for this, I reached out to two of my good friends – Abhishek and Rajshree. Abhishek is creatively insane, and has been a mentor to 10s of startups. Rajshree on the other hand is great at strategizing things, having served as GM at Whirlpool and leading the Growth team at Zivame. Combined discussions with both of them lead to a great execution strategy – Stay On Skill India Tour 2017 – a practical validation of the idea – an MVP without code.
We launched Stay On Skill India Tour three weeks back, and invited some of the highly skilled people from around the world to apply to travel India. The initiative generated a lot of buzz. It was widely shared on social media. As a result  of which, applications started pouring in 100s. In order to keep the tour manageable, we stopped the entries at 300. Some of the notable applicants are:
1. A professional Salsa and Tango dance teacher from Argentina
2. A seasoned silicon valley investor with 23 years of experience
3. A professional Spanish theater artist who has learnt Theater and Singing at Madrid public drama School, RESAD, has done workshops with prominent classical pantomime like Thomas Leabhart,
4. A Music mixer who has worked on multiple television series, including Epic channel's Devlok with Devdutt Pattanaik
along with many other experts in Music, Startups, Coding, Craft, Photography, Singing, Painting, Design, Martial Arts, Yoga, Blogging, Dance, Puppetry, Pottery, Jewelry making etc.
But even more interesting was the fact that 48.2% of all the applicants are solo women travelers.
To find hosts for these amazing travelers, we are now launching
Stay On Skill – Skill India Campaign
. Our strategy is to find enthusiastic learners from all across India who want to host these experts and learn a skill of their choice for free!
Imagine learning travel blogging from a New York Times travel writer. Or, taking guitar lessons from an American Rock Band. With Skill India campaign, it is possible! All these experts are willing to teach their skills for free to anyone who would like to host them.
In my opinion, this presents an opportunity like never before, for all of us in India to learn a skill of our choice for free and that too from an expert.
For working parents who want their children to learn something new this summer, instead of putting them in a workshop, invite a skilled traveler to your home. Let your children experience cultural diversity and learn from a known expert.
Residents of Mumbai, Delhi, Pune, Rishikesh, Dharamshala, Guwahati, Hyderabad, Ahmedabad, Chandigarh, Bangalore, Udaipur, Bhopal, Kolkata, Chennai, Jaipur, have already put their city on the map. It's your turn to make your city shine.
I feel TRH is one of the best communities for Skill India campaign. We have both enthusiastic learners as well as people who have enough space in their heart to share their home with an expert 🙂
Apply now to host an expert and learn a skill of your choice!   
Looking forward to a great response from the TRH.
For any queries, I can be reached at arjuntuli.alpha@gmail.com or +918860017221 or @arjun_tuli (on twitter).